4 years ago · 4 min. reading time · visibility ~10 ·
A heart full of generosity and love!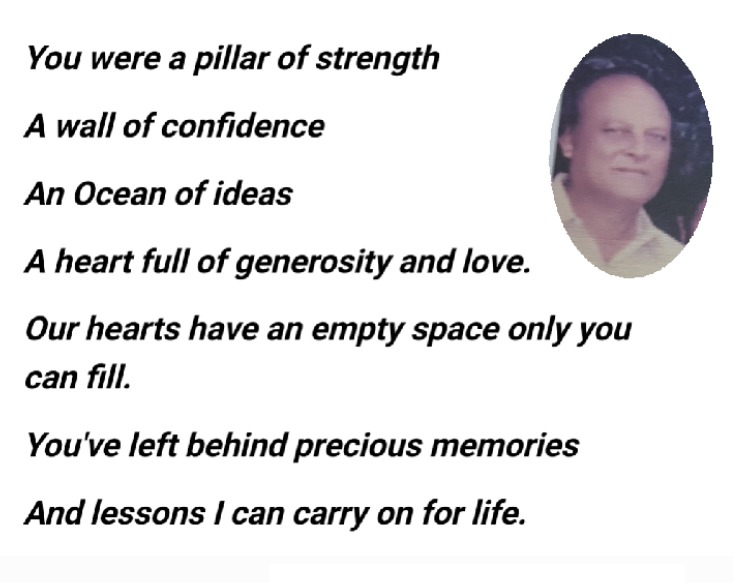 I hurt and have been hurting and as much I'm finding healing, I never forgave myself for allowing my father to pass away. I was sitting and watching a movie in the living room not knowing he needed my help. Why didn't he call out like he usually did? Why did he choose to die without walking me down the aisle?
Why didn't I have my usual dinner conversation with him that night?
 I was busy at ex's place that particular day and came home quite late. I asked my mother if Dad had dinner and meds. She said, he had a small bite and is off to bed. He never showed her any signs of uneasiness.
I chose not to disturb him and turned on the television as I couldn't sleep as yet.
He'd been sick for about 10 years. In 2004, he had a stroke due to high BP that left him paralyzed on his left side.
I was busy trying to make ends meet and educate myself, while yearning my father gets back on his feet, which he did for a while. Not that he was an alcoholic but the man loved his scotch and that was not helping with the medication. We decided to switch him to Ayurvedic medicines. 
My mother hunted places in Kerala, Pondicherry and Goa etc and came back with answers she believed would work. She was on one feet to see her man in action again. She still remembers how he followed her for months together, till he got her to marry him. She now often regrets, she should have asked him to choose between the bottle and her.
Dramatically speaking as I know time and fate had it's play that day. It was because he had a drink that night he'd  forgotten to take his tablets, which we all blamed him for till he died. We blamed him for not choosing his well being. We blamed him for not letting us live normal lives. Which I now know was a mistake. I now see why that did not help in his healing and my healing after his passing.
I'm sorry Dad you fell ill I know it's not your fault. I was too immature to understand that.
I wish I had known about healing from within while he was alive. I'm pretty sure I could have got him back to his feet.
His role had became that of an advisor and stay at home dad. Most of the time, we did not understand the value of his advice or were too busy to hear him out. 
He was alone most of the time, while we were busy with our jobs and problems to handle. I think more than the sickness, it was loneliness or depression that killed him quickly.
But when we did spend time with him, he'd make sure everyone had a hearty laugh. The man was known for his charm and witlessness.
Before he fell ill people visited him everyday always seeking his advice, approvals or financial advice and for chances to act in the movies he was the production supervisor for.
But when he fell sick not many came to visit him.
He's acted in many Indian movies as he worked in the Cine industry after he lost his job at the rigs. He used to work in the oil and gas industry and left the sea life to be home with us.
The image below is from one of the movies where he played the role of a priest for a guest appearance. He appeared in quite a few movies. My dad is super handsome as you can see.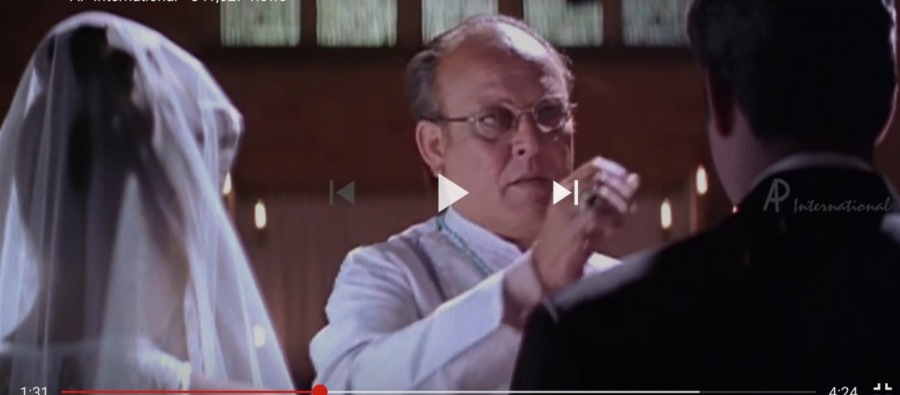 Movie - Dum Dum Dum 
It makes 3 years today. He's gone and we managed to continue our lives. There hasn't been a single day gone by, where I don't think of him or feel like I need to share something with him or wonder what we'd be doing together.
I realise I miss him terribly because I never missed him when he was alive. I never understood the importance of his presence and know the impact of his absence now!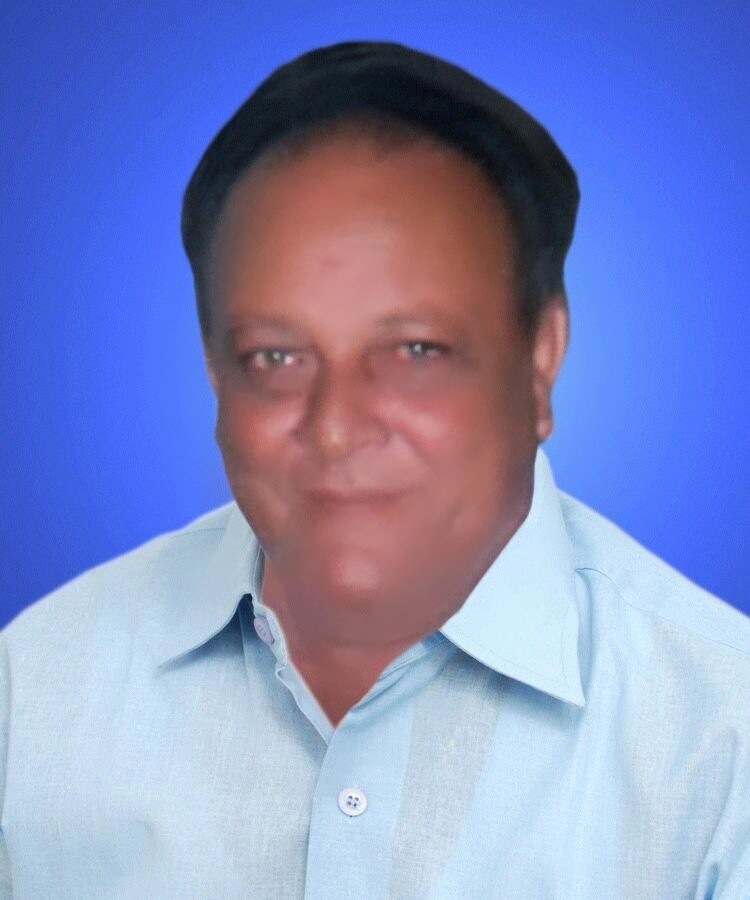 You'll never know how much you miss someone unless they are not there. 
Remembering you is easy we do it everyday
But missing you is a heartache that never goes away.Author in Source Title
The biggest lesson his death taught me is that the time and feelings we have for the people we love, should have a greater need for fulfilment and expression than for the need to accrue money, fancy job titles or materialistic things.
I remember him asking me, if I was getting married that year and I said I don't know!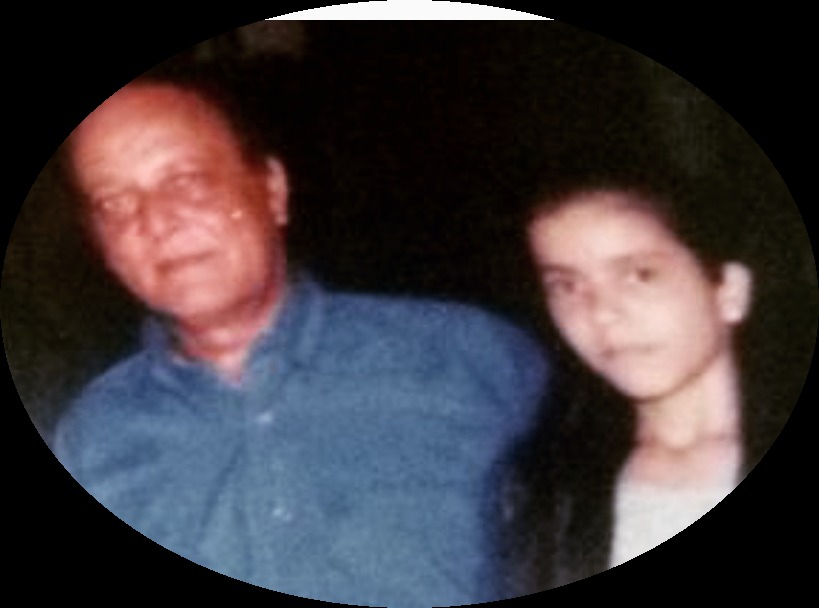 He smiled and said "I know you'll find the perfect guy". I smiled back and told him, "You better start walking by then as you'll have to walk me down the aisle ! And we had a heartily laugh about it. I somehow now sense he was trying to tell me that he's going to die sometime soon. Had I sensed it right then could I have done something about it? 
All I'm cross about is, I should have told him how much I love him while he was alive.
I hope he hears me now as I tell him "Dad I love your very very much and you've made such a difference in my life" .
You are my hero and I'm sorry I never told you that! 
Today I choose to forgive myself! I choose to heal.
I forgive myself for I realise I had become a victim of my circumstances during that time. I will never let situations, blame and circumstances hinder the importance of my self and the ones around me.
I choose to love everyone around me as much as I can, as I know there's not much time left with each other.
I choose to live life every day with purpose and satisfaction. Hence I'll have nothing to complain about other than sharing all the lessons I learn each day with the love I have with people around me. To enable them to love and live with satisfaction.
You were a pillar of strength 
A wall of confidence
An Ocean of ideas
A heart full of generosity and love.
Our hearts have an empty space only you can fill.
You've left behind precious memories 
And lessons I can carry on for life.
Thank you dada. 
Rest in peace. I love and miss you very much.
""""
You have no groups that fit your search