1 year ago · 2 min. reading time · visibility ~100 ·
Happy Birthday Dadda
I dedicate this buzz to my Dad.
Wishing him a Happy 71st  Birthday. He now lives forever in our hearts.
It makes 5 years this past July. He's gone and we managed to continue our lives. There hasn't been a single day gone by, where I don't think of him or feel like I need to share something with him or wonder what we'd be doing together.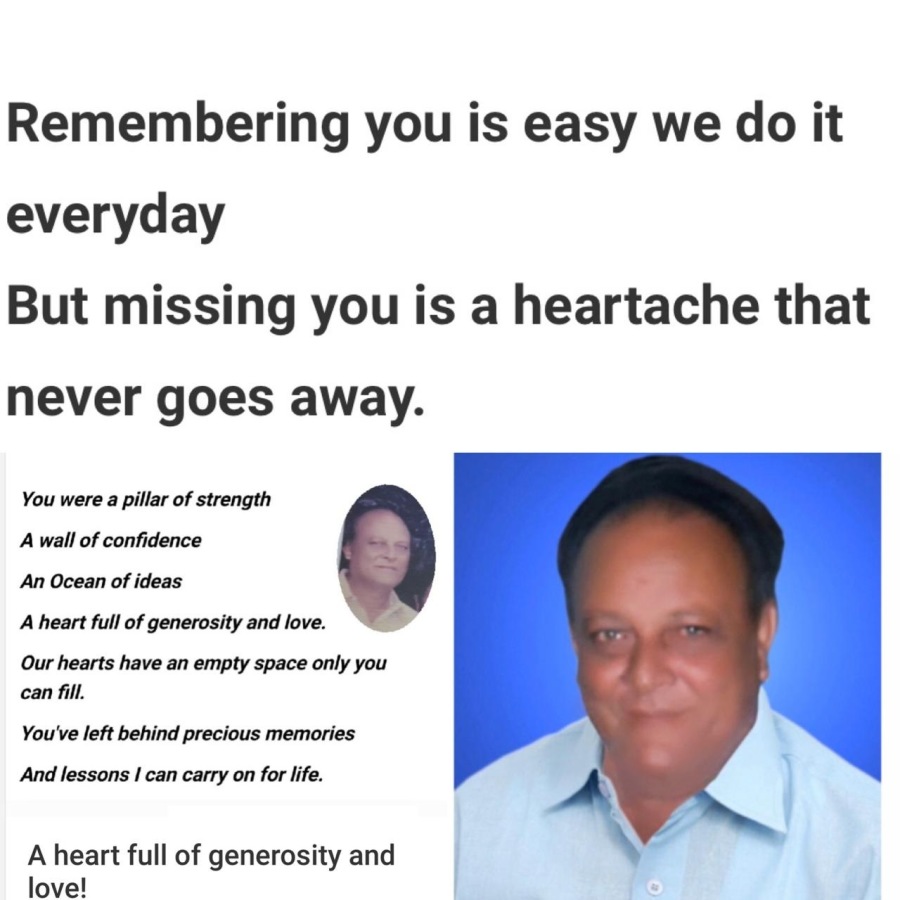 The biggest lesson his death taught me is that the time and feelings we have for the people we love should have a greater need for fulfillment and expression than for the need to accrue money, fancy job titles or materialistic things.

I seem to keep forgetting our memories so I've decided to pen something down today.
My dad was a romantic. Yes, he was the lady's man. He was very handsome even till his last days with us and never let his cynical romantic side ever fade away.
I remember him telling me the story of how he made or rather got my mum to fall in love with him.
My mom used to work in a beauty parlor and he had noticed her one day while he was visiting the Gent's Salon in the same complex.
He thought to himself, wow she is beautiful. An Indian woman with long black beautiful hair is hard to not notice. He said to himself I'm marrying this woman.
But my mother's upbringing had thought her never to raise her head and look at any men while going or coming back from work.
In fact, her father had even stopped her from continuing her education because he saw her talking to a couple of her friends (boys) one day while coming back from school. My grandfather was one grumpy old man I guess. My mom always said he was like Hitler in the house. He loved the whiskey and treasured it a lot but was a good father to them. 
So, coming back to the love story my dad had tried to persuade my mom many times on her way back home. He had even started smoked a lot of cigarettes figuring out how he can get this woman to love him. He would go right when she's finishing work and wait for her every day so he could see her when she was going home.
The only way he could finally persuade her to marry him was after meeting my grandfather and they became very best friends. He loved him, even more, when my dad brought the best of booze when he returned from the Rigs. He worked in the Oil & Gas industry during the time.
They had a small wedding and got married soon after and had been in love ever since.
They are one of the best couples I witnessed growing up. She stood by him through thick and thin.
Today I remember my dad as this 6' feet tall handsome young dude standing in front of my mom's beauty parlor. 
He's told us some of the best humorous stories and had a charisma whenever he talked. 
I remember the smile he brought on every person's face and I try to do that every day. 
Like my dad, I choose to live a life of goodwill, generosity, and kindness.
Thank you dada. 
I love and miss you very much. Happy Birthday 
" Philip Clinton Williams " Rest in peace. 
You have no groups that fit your search