How to beat the Applicant tracking systems and resume-filtering technologies?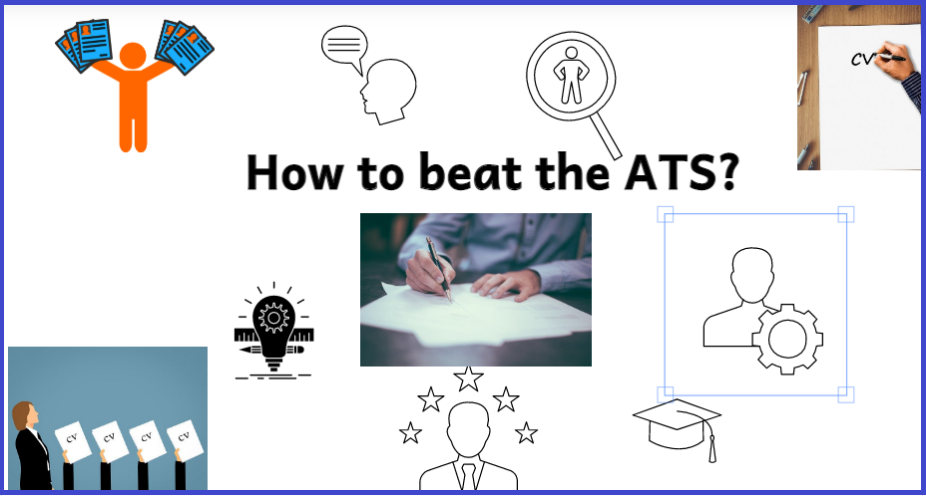 Your work doesn't speak for itself. You do!
Do not lie.
Do not misrepresent yourself or your skills,
Do not claim experience, traits, or knowledge that don't represent you
The ATS pick out key words from your CV and ranks CVS accordingly.
Points are given for each match in keywords or Skill.
When the hiring manager searches for Cvs from the internal ATS database, the CVS that match the skills rank at the top.
Add those keywords from the job to which you're applying, and add them in your job description on your resume.
Include your geographic location this helps you close in on jobs nearer to you.
Mention you top 2 highest qualifications & any relevant certifications.
Don't have a certification?
There are many free online courses such as Future Learn, Udemy, Alison.com, learn.saylor.org, Edx, Coursera, Free Courses - Stanford Online and so on
Did you know there are many free resume builders available online.
Create your perfect CV with some of the best free online Resume Builders - Alison.com has one as well.
Please don't add any boxes or columns or extra graphic designs those are not ideal for the ATS, use Visual CVs only when directly emailing the hiring managers.
#Tip 2
Personalization and resume tricks
Your resume should normally have a header, a "seeking statement," I would say this is your career mission. If you want personalize your statement use the company's name and address them in your mission statement.
 Taleo, one of the most popular ATS packages automatically gives applicants points for using the company name in the application.
"If you use the company name once, the Taleo system will give you a point. If you use it twice, you get two points in their system. If you want to see how it works, they're very open about the process; Taleo even has videos on YouTube that show how they eliminate candidates who don't know how to play this game. ( Source : Taleo)
 Include your most current skill sets and four -- only your TOP four -- accomplishments, each with a net result: revenue generated, deadlines met or exceeded, money saved,
For example.
Each should include the name of the company for whom you worked, where you worked (the Location/City) your job title, dates (From/To) and your job role.
Here's an example:
Project Manager ( Reporting to Executive Director), Company Name: XYZ Private LTD
Dates Employed: Mar 2016 – Dec 2020, Employment Duration: 1 yr 10 months
Location: Dubai
Key Accomplishments:
"Achieved 300% of my FY2019 Quota. Achieved 199% of my FY2016 Quota.
Achieved 125% of my Budget having a closure of $1.25M. (2017-2018) (MENA Region)"
Onboarded 16 key clients to generate annual revenues of nearly AED 5 million per annum.  
Achieved 155% of my Budget having a closure of $1.25M. (2019- 2020) (MENA Region)"
Have two resumes a short form and a long form. "All the extras, all the other details, should be saved for your long-form resume. 
References - Don't neglect networking and social media.
If you want to make sure you're landing in a job and at a company where you can thrive, you can work on beefing up your networking skills and generating referrals from friends, family and former colleagues at organizations.
Majority of the jobs are found as a result of networking, so there's a great chance your professional network will be the source of that next touchpoint.
Majority of the companies today find their highest quality hires come on the recommendations of their current workforce.
Today companies want to bring in the best and brightest, rockstar talent, and in many cases, employees are incentivized for referring new hires. So, look around and apply the broadest possible lens to the connections you have at the company.
Do you know someone who knows someone? Let's say you want to apply in Google?
Go to the company page and click on it's employees.
Do you see a manager or an executive comment on some post or article you once read, or did you read a particularly eye-catching blog post?
Anything that gives you a reason to connect is great! Comment on that post or article and send them a connection request. Now they are most likely to connect with you because you are from the same industry, have the same interests or skills.
Make sure the connection is personalized in the most authentic way for getting to know the person, it should not be just about asking for a reference!
" Dear Mr X, I came across your article on Artificial intelligence and since we work in the same industry. I'd like to add you to my Linkedin network.
Thanks & Regards, x " r something similar.
Give them a few days after you've displayed some knowledge in your area of expertise. You can do this in many ways. Add a post or article on the topics you are knowledgeable about, related to your line of work. Share any top news in the industry, which will interest those in your profession to read and open about discussion about it. 
You want to learn how to build amazing conversations through discussions @Ali 🐝 Anani, Brand Ambassador @beBee  Dr. Ali Anani is a great example to follow & learn from. He constantly shares all his wisdom, knowledge and expertise in posts and articles. 
Ask for a reference only once you've displayed your skills to your network by sharing your experiences and success in the current or past role by sharing pictures, articles, certificate of appreciations etc
If I were to ask someone to recommend me, they would find enough information and posts on my profile to validate their recommendation!
Have two resumes a short form and a long form. "All the extras, all the other details, should be saved for your long-form resume. 
#Tip 4
Have an Fantastic profile online
Did you know that recruiters and hiring managers do research on you before they reach out to gauge interest.
They work to find out which ones work with companies and roles they would be interested in.
They do a lot of research, before they even reach out to you, to understand what skills, experience, passion and interests a person has --and not look just at the resume matches.
The main goal is to make yourself a person of interest, a known entity.
Once a recruiter/headhunter has those data points, they are the most determined people on the planet (I'm talking about people like me LOL), and they will politely and persistently reach out until they get a response, to start a two-way conversation.
Make a list of the companies you'd want to work for, find out what  particular roles you'd be ideal for, and then what experience, skills, passion and interests match up with those available at the company!
Try and identify if there is a particular manager, recruiter or other person currently at the company you could get in touch with.
If you have a specific company and/or role in mind, you should look at this as a long career search journey, not a specific one-off shot at a job. This takes research and time.
 All the best!
#resume #ATStips #Career#personalization     #relevance    #StrategicCoach
قد تكون مهتمًا بهذه الوظائف
تم العثور عليها في: beBee S2 AE - منذ 3 أيام

---

DP World

United Arab Emirates, الإمارات العربية المتحدة

Job Purpose:Manage and support regional and terminal organisations with respect to DP Worlds Reliability Culture with specific subject matter expertise in the following areas which are in-line with DP World Reliability Framework. Enterprise Asset Management System (EAMS) · Work M ...

تم العثور عليها في: beBee S2 AE - منذ 3 أيام

---

Private Sector

Dubai, الإمارات العربية المتحدة

دوام كامل

JOB DESCRIPTION · Title: Sales Manager / Key Account Manager · Location: Based in Dubai - UAE, selling to customers within the GCC region. Reporting: Director of Sales · Summary: · Main responsibility is selling Industrial Data Communication Products and Solutions to various cus ...

تم العثور عليها في: beBee S2 AE - منذ يومين

---

Accor Hotels

United Arab Emirates, الإمارات العربية المتحدة

OTHER

The place to savour life At Mövenpick, we believe indulgence isn't a privilege – it's a crucial ingredient in our recipe for happiness. Savouring life's natural pleasures brings fulfilment, appreciation and positivity. When you smile at life, life smiles back. · ACCOUNTS PAYABLE ...