5 years ago · 2 min. reading time · visibility ~10 ·
My World of Bees, Buzzes & Honey - beBee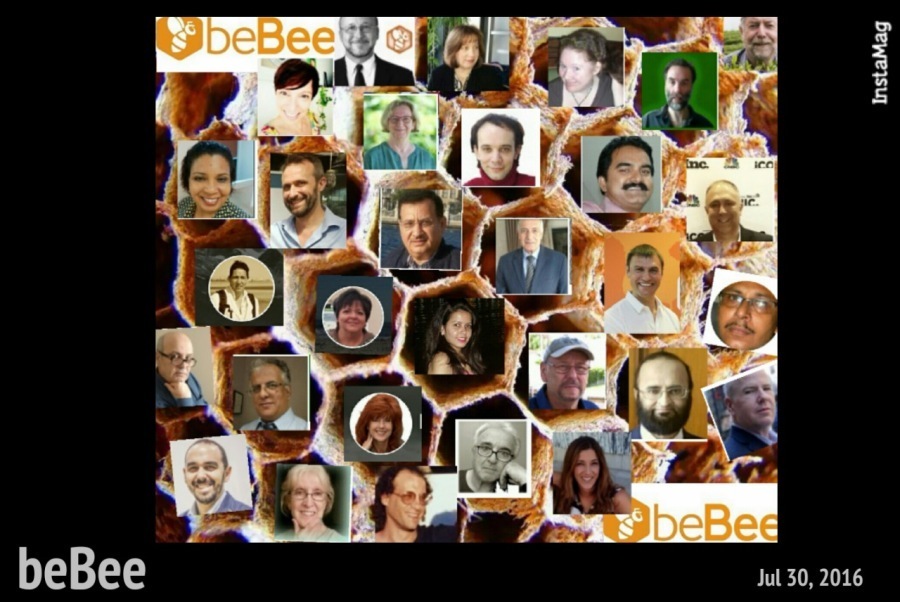 I take toddler steps as I'm still afraid to break my cocoon. I see these great bees buzzing around me asking me to take a step forward and not be afraid. 
beBee Javier and his bee-gee team tell me their building me a safe hive with loads of honey to buzz around. Get comfortable and that others bees will allow me to visit their hives and taste some of the nectar in there too.
beBee Qamar gave me a warm welcome. beBee Rebel whispers to me that's it alright to face our fears. beBee Pamela tells me to always stand up for what I believe and speak my heart out no matter what, she's family.
beBee Ali Anani enriches me with confidence, showing me why we need to contribute all we can while we can with his kind and sincere writing. He leaves an indelible mark with every new buzz, a new memory that will continue to live within me.
beBee Anees pats me gently on my back and shows me that beauty lies in the eyes of the viewer. He makes my world a better place with his most insightful comments and buzzes.
The creative Sara Jacobovici has this most subtle way of engaging and enlightening one's world with her torch of commenting. Her buzzes on all her beautiful memories seem to draw me to achieve half of what she's seen and experienced. beBee City VP Manjit one of my new favorite bees explains life as you know it with a breath-taking view.
beBee Dean shows me that the beBee world is as interesting as we make it. He is a motivator and shares all his experiences for the benefit of other bees. beBee Milos one of my hero bees fascinates me with his work. His valuable contribution and dedication to his work leaves me in awe. As for beBee Gary and Deb I need a whole new post to talk about their lovely hearts. beBee Lisa is my champion bee her insightful buzzes and comments leave me contemplating
beBee Jim Murray validates that the end is never near, as long you believe that you are king in your kingdom as lumpy as it may be. His style of writing and his work amazes me. beBee Phil Friedman always stands up for genuine intellectual engagement and his witty comments always bring a smile to my face.
They both along with many other beBees show me that "Writing is the epitome of sharing a piece of yourself to the world"

.


Fatima Williams
It's makes me wonder how this universe would be if it were to be the same as my world in beBee land. I learn and live through other's experiences and feel motivated with buzzes pushing me to cross my boundaries. To enlighten the world with what I can contribute.
Thanks to the creators/producers of the sweetest honey here on beBee. This new found love of mine to buzz my heart out, seconds my passion to be able to try to follow the footsteps. To be like or may be better than the gracious insightful bees here on beBee.
Dedicated to all the amazing bees on beBee who give their heart out. Enlightening the world around them.
Stay awesome! You bees are doing a fantabulous job buzzing and dancing around. The joy I have now reminds of a wonderful buzz by the amazing Ali Anani where he talks about the Joy Dancing for Me. https://www.bebee.com/producer/@ali-anani/joy-dancing-for-me
I am a beBee brand ambassador . I love life and live to enjoy every single minute given to me. I love to write and have got an opportunity to do so now rarely ( Winks)
Thank you for reading this article. I welcome your comments. I follow some amazing people, from who I draw my inspiration to write. If you find this article very useful, please share it with other members of your beBee / Social networks. "To share to learn" #beBee #beBeesforever
***All content & Images Copyright 2016 ***No image shall be used without my consent apart from through this buzz***
"
You have no groups that fit your search