4 years ago · 6 min. reading time · visibility 0 ·
Why I love beBee - Part II
My World in beBee land is where I constantly learn through other's experiences. Feel motivated with buzzes pushing me to cross my boundaries and enlighten the world with what I can contribute.  
An indelible mark with every new buzz, a new memory that will continue to live within me.

For learning, growing and achieving feats we need an affinity network like beBee
Fatima Williams 
Here's my next set of favorite beBee's who live up to beBee motto and are Authentic 🐝 Personal 🐝 Passionate beBee's. And I quote below my first interaction with them. 
For the first buzz on this WhyILovebeBee series click Here 
1. 
Qamar Ali Khan
You are the one of the first few I met on beBee. You have to read this buzz ( Winks )
"The beauty of a person lies in his heart; And in the words he speaks or writes "Author in Source Title
In your case it's both - You are a very talented , kind beBee. Your buzzes on self - development and contributing one's own growth are very motivating to read. I have never felt more welcomed at beBee if it weren't for you and a few other beBee's. The goal is
simply
one thing for me. To make everlasting friendships. To learn and grow in mind and soul. I am
truly
thankful for our friendship !
https://www.bebee.com/producer/@qamar/why-i-m-on-bebee-who-am-i

My first buzz comment on Qamar's post.

@Qamar Ali Khan

I wonder how I missed this one. Read it to realise I've already read it on Linkedin. Again you don't fail to amaze me, with how you try to contribute to self-development in some way or the other.  It's true that unless we decide to improve ourselves with our own efforts we cannot improve and this would go with any skill we are trying to improve or acquire .Thank you for being so straight forward.


Author in Source Title
2 . Deb 🐝 Helfrich
Deb has been a great person to connect with from day 1. It was love that introduced her to me. She talks from the heart and it's makes sense to our head. Her presence is felt through her comments. Now that, very few people can do ! She is transforming the lives of many people on beBee and you're at loss if your not following her. She is a gem among the treasures found at beBee. She loves her dogs more 😉😉 . She loves helping people find answers in their struggle to find a job which is a pretty awesome thing to do. She is unique.She has published an e-book to help job seekers prepare for interviews and as a recruiter I applaud her on the efforts she has taken to publish and share this with everyone. According to her "
Job-seeking is an art, not a science".
My first buzz comment on Deb Helfrich's post! 
"Thank you Deb I should say your attention to detail is spectacular. And its proven with this buzz you quote "Where what unfolds is tidy and planned and deeply full of meaning." It's up to us to unfold the meaning that opens up a different world than what we are accustomed to."


" This is almost a masterpiece. I felt like the girl in the balcony and I was transported to another time in my life. Thank you 

@Deb Helfrich

 Keep them coming . I need to reread this again These memories we have are treasures and we all have something to learn from every place that created the memory.

Author in Source Title
I have to quote Deb's reply " It is incredible to hear, @Fatima Williams, that I was able to transport you to another time in your life. Most of us have had those transitions where we felt an outsider, a watcher and not a participator. And in my case, being a spectator invokes that sense of being in the cheap seats watching a magnificent performance spread out below, where what unfolds is tidy and planned and deeply full of meaning."
The link to the buzz is below

https://www.bebee.com/producer/@deb-helfrich/the-downward-search-for-nuance
I recommend reading her e-book "Unique Interview Insights: Inspiring Thoughts to Help You Remember: You Are the Expert in You "


My book review " This is an awesome e-book to help job seekers prepare for interviews . As a recruiter I applaud her on the efforts she has taken to publish and share this with everyone.
According to Deb Helfrich " Job-seeking is an art, not a science". The book gives us genuine advice on " How to build the confidence we need to face an interview ? How to tackle different types of interviews. How to be social media ready to build your personal brand as a potential job-seeker that recruiters would take time to invest in ? It's a collection of inspiring quotes ,comments and authentic advice". A must read for all Recruiters and job seekers or anyone trying to understand the value of Oneself ! " I would recommend this book to my family and everyone I know who reads :)Author in Source Title
You can purchase her e-book @ https://www.amazon.com/Unique-Interview-Insights-Inspiring-Thoughts-ebook/dp/B01GM70MOS?ref_=nav_ya_signin&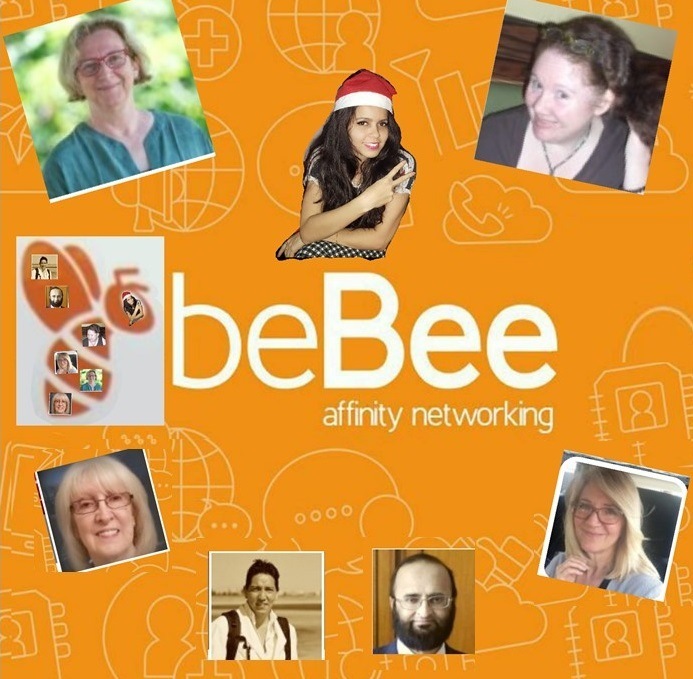 3 . Franci Hoffman
To thrive in the hive
We need to be alive
Sometimes we jive


To Franci's Rhyme

Author in Source Title
A few on beBee make us want to write poems and Franci Hoffman brings poems to life. Her Poetry is meaningful and broadhearted just like her. She is one of a kind. The thing about beBee is no two people are the same and when you find affinity with someone despite culture, age and professional differences it makes that relationship or connection a success. The affinity , affection , learning and understanding that we have developed over the past couple of months, takes me back to how relationships worked without mobiles phones and constant text messages. That's the kind of affinity I share with the amazing people on beBee and Franci is one of them. As she quotes" When thoughts and energy happen to be on the same page, then there is a connection" !
My first buzz comment.
Tick Tock goes the clock :) Lovely Poem

@Franci Eugenia Hoffman
A swarm of bees
Buzzing with ease
Welcoming all
With a beckoning call.
- Franci Hoffman
The link to the buzz is below

https://www.bebee.com/producer/@franci-hoffman/tick-tock
4. Dean Owen
My first interaction with Dean Owen was on a food buzz. We all love food but he lives food. Ask him about any cuisine, he pretty much knows it all. It's not just about food you can learn from him, there's so much more business , travel etc ! He's had the opportunity to work and live in a number of different countries. I would love to travel and visit many cultures like he has. I would love to meet him. A great dad, an interesting person and an intelligent Leader Yes that's Dean-Chan🤗☺. There's a lot one can learn from him personally from his life experiences and professionally from his work Experiences. He must be on that list of beBee's you follow.
My first buzz comment "Awesome

pictures and some great memories your making there. China has always been on my bucket list. Thank you for sharing a stunning view of China "


Author in Source Title
The link to the buzz is below

https://www.bebee.com/producer/@dean-owen/the-middle-kingdom 
5 . Sara Jacobovici
Sara is not only the most creative writers I met. She has the elegance of a beautiful white Swan that floats so gently on the pond. That's how I take her presence on beBee. She wakes up thoughts that we discard as useless and gives us new horizons to think of. Sara Jacobovici has this most subtle way of engaging and enlightening one's world with her torch of commenting and her buzzes on all her beautiful memories motivates me to achieve atleast half of what she's seen and experienced. Her writing reflects humbleness displayed in words filled with creativity and passion. A perfect beBee - Authentic - Personal - Passionate 🐝

Yes She is a very special beBee always there to open up your creativity side.
My first buzz comment 
Such a great buzz

@Sara Jacobovici with some thought-provoking comments. Each one unique in its own way and one can infer much about the perspective of loneliness from all these great minds.


It is from some great moments of loneliness one finds true meaning in life.

Author in Source Title
https://www.bebee.com/producer/@sara-jacobovici/alone-to-create

My favorite buzz comment  - I love many more buzzes written by her but this one deserved a poem and a mention here !
To read beyond the lines ; 

To learn beyond our time


To fill our empty cup with honey ; 

To have an open mind


To kindle our senses ; 

To explore our abilities


To be on beBee ; 

Is the Above to me


Enjoyed reading this buzz again

@Sara Jacobovici

almost after a month now and it still validates my thoughts on why I am here and how much I stand to gain from all you amazing bees :)

Author in Source Title
https://www.bebee.com/producer/@sara-jacobovici/in-appreciation-of-all-the-bees-in-the-world

A panegyric of  Sara by Sara Jacobovici
https://www.bebee.com/producer/@cityvp/sara-jacobovici 🤗

6 . Irene Hackett
Her middle name is kindness. Her most loved piece of writing among many others is "The drowning in the pursuit of happiness". She is a seeker of truth and lover of ideas.
I would like to add courage is also a word attached to her name. She has been so courageous in life that makes me question why did I lose many and makes me want to be strong like her. 
Every time you read her work you want to do something different you want to let go of the usual rigmarole that we allow to take place in our life. Stand up strong is the motto I'm reminded off with the affinity and friendship I share with her. When I interact with Irene I remember that in giving I receive ☺
Quote by Irene " My hope is that you receive the mystical music of the air - the songbird's message - so artfully arranged, playing chords known only in the heart, singing as if with lyrics that ensure, "It's going to be a beautiful day! "

https://www.linkedin.com/today/author/0_1KQrYtg62lfwObknMOiCOZ?trk=prof-sm

So JOIN ME on beBee and start buzzing
Live Love and Share on beBee
beBee to me is my breakfast ; lunch and supper !Author in Source Title
"
You have no groups that fit your search