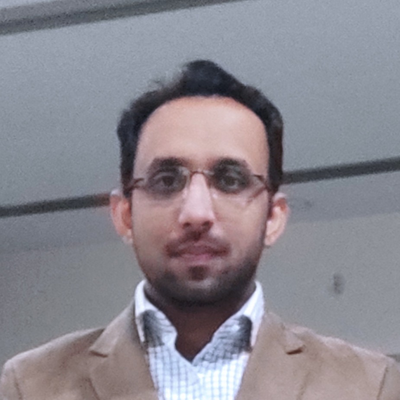 Nadeem Akhtar, CFA
Unit Head Credit Risk at MCB Islamic Bank Limited
Dubai, دبي
حول Nadeem Akhtar, CFA:
Please accept this letter as an expression of my interest in the underlying position. I am a highly motivated and progress-focused Unit Head-Credit Risk with a long-standing background in this industry. With a track record of initiative and dependability, I have devised strategic initiatives which I believe will prove valuable to your good organization.
Throughout the course of my career, I have perfected my financial statement review and credit analysis abilities. I am a capable and consistent problem-solver skilled at prioritizing and managing projects with proficiency.
In my previous role, I contributed decision-making, critical thinking, and underwriting toward team efforts and business improvements. I am progressive minded and in tune with new developments in my field. I have proven to be effective and collaborative with strong leadership talents. I enjoy collective brainstorming sessions which allow me to coordinate activities to achieve a common goal.
Please take a moment to review my attached resume and credentials. I would greatly appreciate the opportunity to speak with you regarding my candidacy.
Thank you for your consideration.
I'd be happy to provide greater detail about my skills and experience during an interview. Please call me at your earliest convenience.
I am willing to relocate for the right job.
Sincerely,
Muhammad Nadeem Akhtar, CFA
تجربة
An experienced finance professional having more than 9 years of experience Corporate Risk Management at the Head level. A demonstrated history of managing credit portfolios in the most efficient manner on an industry-wide basis. Proven ability to work across various functions in fast-paced environments through multi-tasking. Sufficiently skilled in Credit and Financial Analysis, Risk Management, Investments, Portfolios, & Asset Allocation.
التعليم
Chartered Financial Analyst-CFA
BBA (Hons)
محترفون من نفس قطاع الخدمات المصرفية/القروض مثل Nadeem Akhtar, CFA
محترفون من قطاعات مختلفة بالقرب من Dubai, دبي
المستخدمون الآخرون الذين يطلق عليهم Nadeem
وظائف بالقرب من Dubai, دبي
---

Exit international logistics

Ajman, الإمارات العربية المتحدة

We are looking to hire an experienced female customer-oriented Telesales Executive to utilize inbound and outbound telephone calls to achieve sales targets. · The goal is to help the company grow by b ...

---

F1 Infotech DMCC

Dubai, الإمارات العربية المتحدة

The role of the business executive is to develop business and contacts within the hospitality industry of Gulf & Middle East. · Looking for young and dynamic enterprising sales professionals. · This r ...

---

The First Group

Dubai, الإمارات العربية المتحدة

Overview · Headquartered in Dubai, UAE, The First Group is a dynamic, integrated global property developer with a fast-growing portfolio of upscale hotels, residential properties, F&B brands and real ...