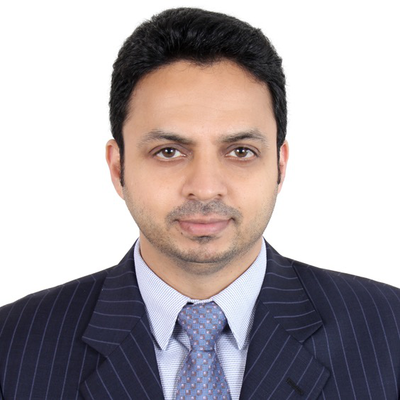 Feroz Inayath Hussain
Specialist-Treasury Operations and Cash Management
Abu Dhabi, أبوظبي
حول Feroz Inayath Hussain:
A determined and reliable Treasury and Cash Management | Transaction Support and Execution | Global Operations Specialist with over 18 years of experience in the Accounting and Finance field including cash flows management, budgeting, costing, auditing, treasury and operational activities across different regions (America, Europe, Asia Pacific). Throughout my professional career experience in high-performing institution, I have held multiple positions at one of the world's largest sovereign wealth funds, within Real Estate & Infrastructure Department. Together with strong interpersonal and communication skills, providing a dynamic character with top-notch performance management and reporting skills, risk management, project implementation skills, financial control, and business continuity planning and management. Focused on going above and beyond to supply a diversified and cross-culture business environment that supports continuous personal development. My current professional project is to use my acquired knowledge and skills and contribute to organizational objectives and beyond.
تجربة
Key responsibilities:
• Implementing a multi-jurisdictional cash management strategy, identifying and leading opportunities for continuous improvement, performing risk & control analysis, and mitigating against financial risks.
• Supporting capital strategy formulation, portfolio forecasting, assessing requirements, ensuring sufficient cash, planning group liquidity, advising of sources of funding and managing the funding activities in accordance with the documented controls.
• Supporting the Investment teams in planning and execution of deal closings.
• Overseeing processes for transactions & payments and ensuring compliance with departmental policies and standard
operating procedures.
• Monitoring operational activities across various assets, consolidation, quality assurance and submission of accurate
group cash reports (including ad-hoc), to Leadership and other key stakeholders.
• Managing cash and bank exposure, to be within the thresholds set by the risk and compliance department.
• Implementing banking products on targeted region-specific accounts to funding efficiency and interest yields
including overnight sweep/cash pooling arrangements.
• Developing key external relationships with banks, asset manager, property managers, hotel operators, local
 accountants and stakeholders.
 
• Reviewing and assessing the controls of Treasury function of new business partners across different regions, reviewing gaps and provide recommendations for corrective measures.
• Assisting in reviewing performance of incumbent bank counterparty of new partners and making recommendations for changes and leading the on-boarding.
• Allocating work among teams, working with Financial control, Tax Legal and Business Audit teams to ensure transactions are appropriately structured, and making recommendations for changes where needed.
• Supervising short term investment activities, treasury activities, and Forex (FX) hedging operations, management and settlement in coordination with FX Central Dealing team.
• Performing annual reviews of bank records and managing the KYC process.
• Managing the year-end audit process for Treasury and liaising with external auditors.
Achievements:
• Facilitating and supporting the Investment teams in deal closings (between $50m - $2bn+) in global markets.
• Improving transaction costs and funding time by 60-70% by successfully implementing regional cash pooling
structures.
• Designing and building efficient payment workflow supported by well-defined responsibility matrices and operating
manuals.
• Reduced the idle cash in multiple structures by 35%-40% thereby effectively reducing drag on portfolio performance.
• Successful implementation of ERP (eFront, Oracle AP system and SimCorp Dimension) within given timeframe.
• Overseeing related User Acceptance Testing (UAT), system upgrades, training and onboarding of external/regional
teams.
• Completely phasing out of manual processes and implementation of internal controls for the payment operations.
• Designing and deployment of SWIFT and Host to Host Payment solutions for partners.
• Automating reporting of balances directly from the banks via MT940 reporting of all fully owned bank accounts
reducing exceptions to less than 1% of the total bank accounts in the portfolio.
• Designing, planning and implementation of document repository (Content central and SharePoint)
• Successful rationalization/consolidation of banks and reducing associated cost and operational risk.
• Reducing the Foreign Exchange (FX) risk (negative impact of FX rate movements on USD returns) by introducing
FX hedging management.
• Implementation of robust intercompany loan policy in accordance with the capital structure guidelines.
• Being an active member in the Business Continuity Management exercise.
• Overseeing, training & mentoring of Emiratis and developing junior team members to take cash management role in
different portfolios.
• Developing cash reporting framework to monitor portfolio liquidity and bank counterparty exposure resulting in
reduction of no. of unsatisfactory risk profile banks.
• Supporting the Treasury transformation project, streamlining and alignment of processes and developing Service
Level Agreements (SLAs) across departments.
• Achieving automation of disbursements and cash reporting to ensure scalability of treasury management processes.
التعليم
Master of Business Administration in Finance (MBA), The International University, Missouri, United States - 2007.
• Bachelor's in Commerce (Financial Accounting and Auditing), National college, University of Mumbai, India – 2000.
المحترفون الذين يتنافسون مع Feroz
محترفون من نفس قطاع المحاسبة والمالية مثل Feroz Inayath Hussain
محترفون من قطاعات مختلفة بالقرب من Abu Dhabi, أبوظبي
المستخدمون الآخرون الذين يطلق عليهم Feroz
وظائف بالقرب من Abu Dhabi, أبوظبي
---

Robert Half United Arab Emirates

Abu Dhabi, الإمارات العربية المتحدة

The CompanyRobert Half is currently working with a large education provider based in Abu Dhabi in order to hire a Support Services Manager for their highly skilled team. · The Role · Duties and Respon ...

---

Roya Real Estate

Abu Dhabi, الإمارات العربية المتحدة

This post is for females only*- We are seeking a dynamic and results-driven Sales agent to join our team. · Qualifications: · Bachelor's degree in Business, Sales, Marketing, or a related field (prefe ...

---

United International Group L.L.C

Abu Dhabi, الإمارات العربية المتحدة

Technical sales executivesare skilled sales personnel who specializein scientific or technological products. The role ofa technical sales executive is to promote and sell company productsby demonstrat ...