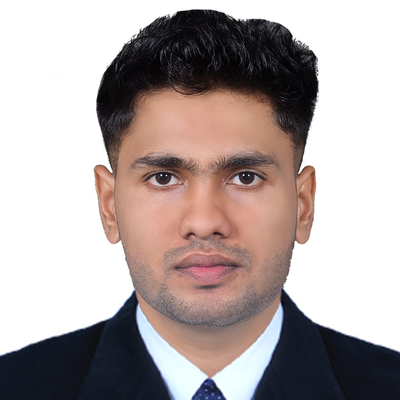 حول Rabin Mohammed:
Seeking a challenging position as a Petrochemical Engineer in a reputed organization where I can upgrade my skills, leverage my learnings and contribute to the organization's growth
تجربة
I have done as an internship trainee for a fifteen days on April 2021 in a chemical plant named The Fertilizers and Chemicals Travancore Limited, Kochi and also done a project work on the topic of Energy maximization using a heat pump in a Propylene Recovery Unit.
التعليم
I have completed my graduation as a Bachelor of Engineering in Petrochemical Engineering from Anna University Chennai in the year 2022
محترفون من نفس قطاع الهندسة\ الهندسة المعمارية مثل Rabin Mohammed
محترفون من قطاعات مختلفة بالقرب من Al Fujairah City, الفجيرة
وظائف بالقرب من Al Fujairah City, الفجيرة
---

Providence Medical Services

Fujairah, الإمارات العربية المتحدة

READ CAREFULLY BEFORE SUBMITING YOUR APPLICATIONS.. · Our Client a · School/University Facility in · FUJAIRAH is looking for a · REGISTERED SCHOOL NURSES to be assigned on their clinics; · QUALIFIC ...

---

Al Mulla Group

Fujairah, الإمارات العربية المتحدة

We are looking for an organized, experienced store keeper to be responsible for all stock, staff management, and planning promotional campaigns for the store. · To be successful as a store keeper you ...

---

LHR Arabia

Fujairah, الإمارات العربية المتحدة

The chance to take the big leap in your professional career is here**: · Conquering new horizons and balance between a successful career and family life · Who is our client and your future employer?** ...